FEATURED SOAPS

NEWS
Fall is upon us and so are our Fall seasonal soaps! Choose from Apple Alamode, Candy Cane, Cranberry, Pumpkin Pie, and Sea Salt Caramels. You can view them all
here.
Today we updated our web site. It may not look much different, but there are a lot of changes under the hood. It should run faster and it will be easier for us to update. It is also designed to be easier to use on smaller screens. If you experience problems, please contact us. Watch this space though, because in the coming months we will be taking advantage of these changes to have specials on certain products and highlight some things we've been working on. Thanks! Also, if you have trouble using this site, you may still use the old version here
Old Soaps Page
.
The "Great American Eclipse" was a beautiful sight! To commemorate the event, we have created our first activated charcoal soap, designed to look like the total eclipse so many people got to see. This is a great way to remember the event or for a gift to someone who got to see it or really wanted to. It's also great soap!
Farmer's Markets
We sell at two markets in our area.
Click here for times and directions.
Lesser Known Secrets:
While browsing our soaps, be sure to check out these things too:
Bargain bars
, a helpful
Printable Brochure
, and
Gift Certificates.
Also, to avoid shipping charges, you can order online and request your order to be brought to one of our markets. Just choose "Bring to Market" on the shipping menu on the Shopping Cart page, and indicate which market you will pick up at in the comments.
Keep up with our news!
Like us on Facebook, Follow us on Twitter, or sign up for our Newsletter for updates and sales. Click here:



Essential Oils are extracts of the natural oils in plants. Essential Oils are therefore 100% natural, and the best ingredient to make many of our wonderfully scented soap while still having a 100% natural bar.
Fragrance Oils are made synthetically. This allows many more delicious scents than are available with Essential Oils, and they are also less expensive, though just as luxurious.
These soaps have no added scents. Perfect for sensitive skin and noses, yet still has all the nutritional benefits and the smooth silky feel provided by the goat milk in the soap.
Throughout the year, we make special soaps to match the season. Fall scents include Apple Alamode and Pumpkin Pie, Christmas season soaps include Candy Cane and Gingerbread Cookies. We often have new seasonal scents every year.
We have a number of other products available. These include lip balms, skin lotions, laundry soap, and bargain soaps. We are in the process of making more products including new scents and liquid hand soap. Our farm also produces a number of products. Check out our
products page
on our farm web site for information. Connect with us on Facebook, Twitter, or our newsletter to hear when new products are available.
***New! Now, if you have a smartphone, you can use your credit card at our Farmers Markets!
If you have a smart phone, you can use your credit card, to pay us at our farmers markets by coming to our web site and paying online. Our regular items and prices are listed, as well as an option to enter an alternative amount if the total doesn't equal what we have listed.
click here
to start your purchase!
The HTML, Javascript, and CSS framework for this web site is also available:
Our web site is built with HTML5, CSS3, and Javascript. Bill built the framework code developing several features along the way. This framework is available for use by others to build other web sites. For details,
click here.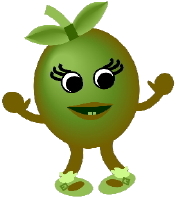 Baby Olive
Our Baby Olive products are specially formulated for those with sensitive skin. They are the perfect addition to any nursery, and an excellent baby shower gift, but also a great choice for anyone who wants an extra gentle product. We use high quality organic olive oil and other gentle ingredients. Olive oil is a gentle moisturizing oil that will gently cleanse and soothe your skin.
Bill and Becky,

As someone who has always had dry and sensitive skin, I've found that living in parts of the world with harsh, and dry climates, has made me particularly excited about finding products that work. My recent discovery of Dixie Soap's "Baby Bum Balm" has been particularly exciting. In the past, Petroleum Jelly was always my go-to moisturizer, being inexpensive and easy to find. When I moved to China, however, and suddenly had trouble finding it, I decided to try to find an alternative. Baby Bum Balm lasts SO much longer, and as a result is very cost-effective for a luggage-weight-conscious traveler. It is more effective as well, so that I do not need to use it [as a lip and hand moisturizer] as frequently. When I was backpacking the local mountains, I realized that it seems the Chinese kids like it too, judging from their love of my skin ;-)

Anna

We can provide soap in a variety of custom ways, whole logs, hotel bars, party favors, bulk quantities, and more.
Our Farm Website:
Our soaps are made with goat milk and herbs both produced on our farm. For more information about our farm and what we have availble, visit our farm web site:
Dixie Does Alpines
Technical Information about our web site
Our web site is built with HTML5, CSS3, and Javascript. Bill built the framework code developing several features along the way. This framework is available for use by others to build other web sites. For details,
click here.
Gift Certificates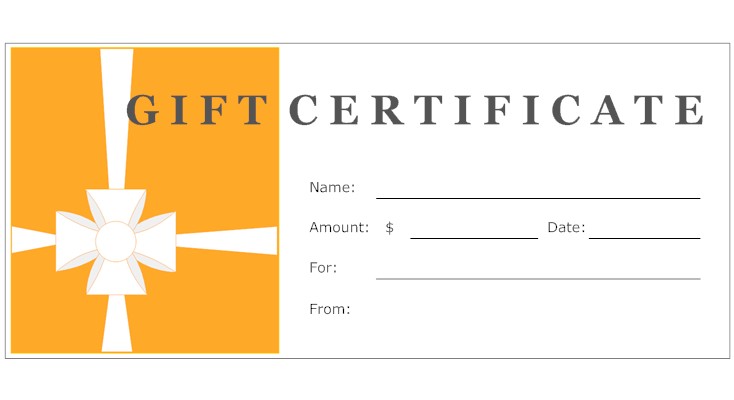 Want to get a gift for a friend or loved one but not sure what they want? Order a gift certificate! Available in any whole dollar amount between $10 and $999. Enter an email address if this is for a friend and we'll notify them. A code will be put into the shopping cart to identify the certificate. We'll email you or your friend once the code is activated. Gift Cards are not discounted with other sale discounts or coupon codes.
View Your Cart
Soaps Home
Direct Sale Purchase or In-Person Transaction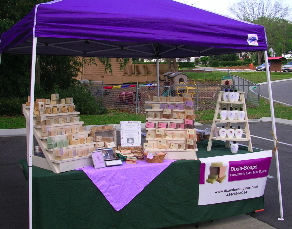 Don't have cash or check at our Farmer's Market or when otherwise purchasing something directly from us? No problem! We can now accept credit cards through our web site if you have a smart phone with you. Use this form to enter your purchased items and total price. No shipping charges will be added. You'll be able to pick up your items once your transaction is complete, which only takes a couple minutes.
View Your Cart
Soaps Home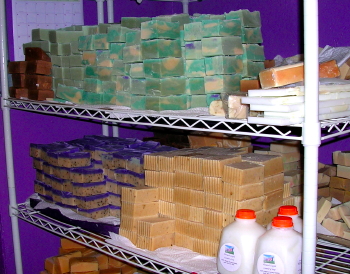 Goat Milk Soap in Bulk
Stock up on soaps, buy in bulk! Orders must be at least 22 bars, and can be up to 42 bars. To order more than 42 bars, order them separately. You can mix and match scents. You can order up to 34 bars for no more than $12 shipping within the continental USA. Short distance shipping costs may be even less for up to 42 bars! When shipping is less we will provide a refund. If shipping is significantly higher due to distance, we will contact you. International shipping will be higher. Bars cost $3.95 each, and you can save even more by ordering unwrapped bars. You can order here!
Choose One Scent --Or--

If you have trouble using this form or want to order soap not listed, please
contact us
for information. If you are interested in becoming a reseller or selling our soap in your store, please
contact us
for information.
Our web site is built with HTML5, CSS3, and Javascript. Bill built the framework code developing several features along the way. This framework is available for use by others to build other web sites. Features of this web site include:
-A multi-level menu bar that works on both tablet and desktop/laptop computers
-Use of javascript to generate templates for repeating data
-A javascript array used as a database containing "normalized" data.
-Taking the concept of using css to separate style information and applying it to javascript code and web page data.
-code that will work for separate related web sites
-A modal pop-up box that behaves itself nicely, easily invoked and easily dismissed
-A picture gallery page with thumbnails built on some of the above concepts
-Displaying sections of a web page that would otherwise be separate files on the server but are instead all contained in one file, reducing the number of files on your server
-Implimentation of code that "detects" the backbutton and responds to it appropriately in places where the backbutton wouldn't otherwise work
-A 404 error page not found page that identifies links that were once valid but are no longer valid, providing the end user with a message that is different for each of any number of possible unique wrong URL's
-A 404 error page not found page that also looks like a regular page except for its unique error reporting content, so users can access the menu bar to navigate to a valid page, as opposed to staring at a cryptic text page or some browser generated message
-A popup menu that provides an alternative to the < select > html tag.
-responsive design
-Features such as marking an item low or out of stock, adding variations, setting a featured item,
-Lots of room for flexibility
-Works well with the Dansie Shopping Cart
This framework is available for sale. I will send you all the base files to make it work, along with a file with instructions on how to set everything up. I will also include a 1 year service plan to fix anything that doesn't work as advertised. I can also provide additional support and add requested features for an additional pre-arranged fee. This framework does not do certain things. They include but are not limited to:
It does not provide a shopping cart, however I have designed it to work with the dansie shopping cart.
It does not provide user/customer login. I am actually looking to add this feature but am not sure how. If you know, please contact us.
I do not make any other warranties for fitness for a particular purpose or any other guarantees.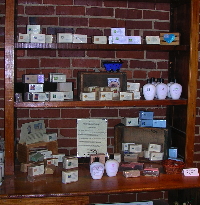 Retail Locations
Our Soaps are available in Dayton, Athens, Cleveland, Dunlap, Grandview, and Chattanooga, as well as some locations outside Tennessee.
Dayton, TN
ArtCrafters Inc
The Gathering Place
Both of these stores are on Market St. in downtown Dayton, just a few blocks south of the courthouse.
View Map
Southeastern Farmers Cooperative
9083 Rhea County Hwy. (US 27), just south of the Rhea County Hospital.
View Map
Soap is also available at their other locations at Pikeville and Cleveland.
Athens, TN
Athens Area Council for the Arts
, 320 N. White St., Athens, TN.
View Map
Chattanooga, TN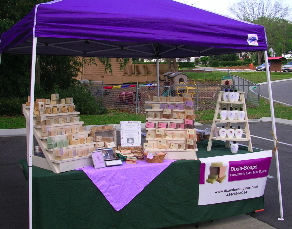 Brainerd Farmer's Market
, Saturdays 10am-noon April-October at the corner of Belvoir Ave and Brainerd Rd. in the parking lot of Grace Episcopal Church. Schedule changes January thru March. Winter 2014 hours are 11am-12 noon. Watch our facebook page and Brainerd Farmers Markets email for when we expect to be there.
View Map.
Olive Chattanooga
, 112 Woodland Ave., Chattanooga, TN. This location features or Baby Olive bar soaps.
View Map.
Ro-Z Pottery
, 3933 St. Elmo Ave, Chattanooga, TN. Next to the Incline Railway.
View Map.
Belvoir Gardens
, 4022 Brainerd Road, Chattanooga, TN. Located next to Grace Episcopal Church which hosts Brainerd Farmers Market.
View Map.
Farmer's Market in Ooltewah, TN: Thursdays 3-6pm
At the Ooltewah Nursery on Thursdays from 3-6pm. Winter hours usually 3-5pm. Come check it out.
View Map
Signal Mountain Farmer's Market
, WE ARE NO LONGER REGULARLY HERE but still want to promote local markets we have been affiliated with. Thursdays 4pm-6:30pm April-October at the Bachman Community Center, 2815 Anderson Pike, Signal Mountain.
View Map.
Cleveland, TN
Haney Dairy
is a distributor for our soaps. Contact them directly to get soap. Call April at 423-650-2592.
View Map.
Dunlap, TN
Natural Affinity Soap, 131 Cherry Street in Dunlap TN.
View Map.
Grandview, TN
Grandview Mountain Cottages.
Their web site has directions. We also have sold products through these stores:
Northport, AL
Wisteria On Main, 315 Main Avenue, Northport, AL 35476, near Tuscaloosa, AL.
Web site
Medford, OR
MaryJane's Attic, 259 E Barnett Suite A, Medford, OR 97501.
Facebook page
Save on Shipping:
we can bring orders to our farmer's markets and deliver special orders to our distributors if they don't have what you want. To pick up at a farmer's market, just order and pay online, then choose "Bring to Market" under "Shipping and Handling" on the shopping cart page, and indicate which market you'll pick up at in the comment box.
contact us
for details about our other distributors.
Your Town, USA:
Add your store to this list!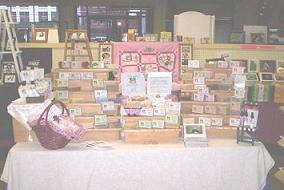 This photo was taken at the Lynchburg Community Market Heritage Crafters Gallery when we sold soap there before the move to Tennessee. We can help you set up a similar display in your store.
contact us
for information.
If you need any additional information, please contact us.
contact @ dixiesoaps.com (remove spaces)
434-944-0294
Or you may use this form to send us a message
Message Sent! We will reply to you shortly, usually within 24 hours.